Lift Hard Play Hard includes the following: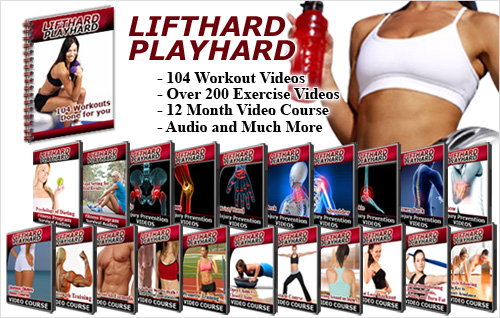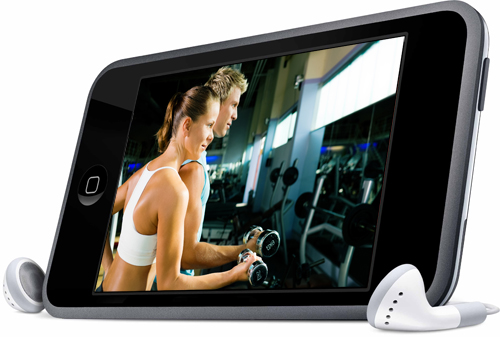 Every exercise taken from each workout will have a corresponding video that is downloadable to your computer, ipod, cd, or dvd. You can also watch them inside the Lift Hard Play Hard member's area.
Seriously, this is like carrying around a personal trainer in your pocket or around your arm, but without all of the time wasted due to meaningless small talk and non-focused exercise programs. Every personal trainer has an 'off day,' but your Lift Hard Play Hard program never will.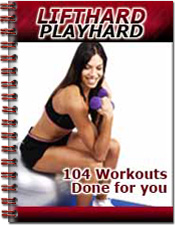 104 Workouts - Done For You ($1700 value)
Delivered directly to your inbox once per week, telling you:
Exactly what exercises you'll need to do
Exactly how much of each exercise to do and how long to work out
How intensely you'll need to work out
Over 200 exercise videos ($1000 value)
showing you:
Step-by step how to perform an exercise with optimal form
Which muscles you are working
Common mistakes that people make with these exercises
Enormous Exercise Video Database
12 Fitness Video Courses ($204 value) teaching you
How to create your own workouts
Rationale behind the creation of the workouts in Lift Hard Play Hard
How to best modify each workout to reach your goals, in specific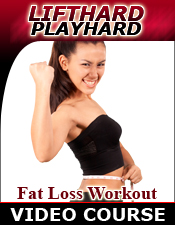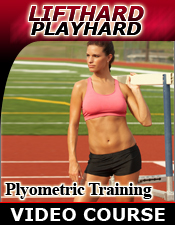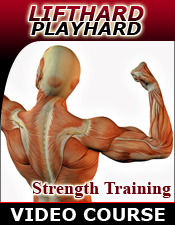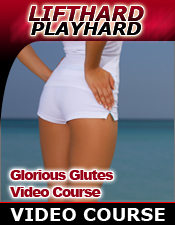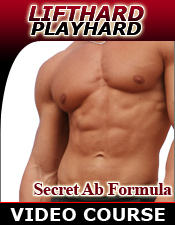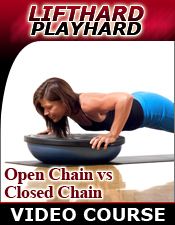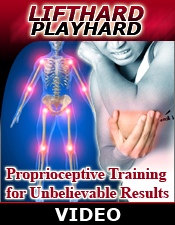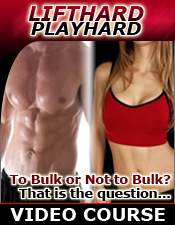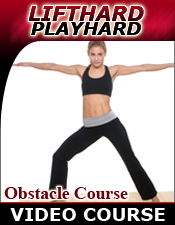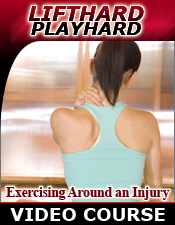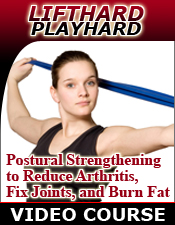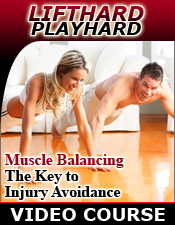 Joint Pain Prevention Videos ($256 value) teaching you:
About the most common injuries all over the body
Why these injuries happen
How to avoid injuries with exercise
Which exercises to do in order to strengthen weaker segments of your body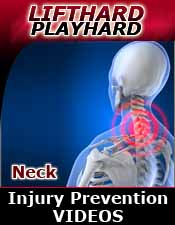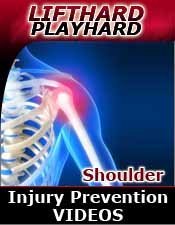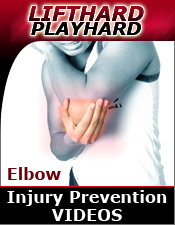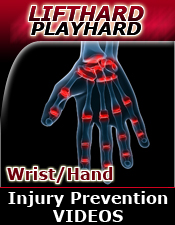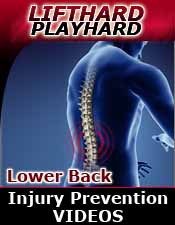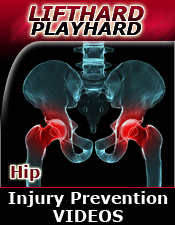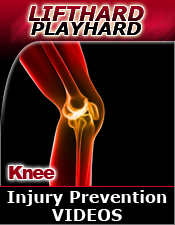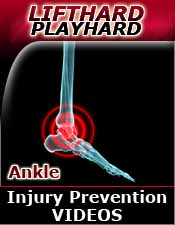 Once you know this, exercise is like cheating. Think about it... if all of your joints are aligned correctly and sufficiently strong to offer increased support, there's no limit to how far you can push your body.
These videos you how to stabilize and strengthen your joints, one by one. These videos reveal my greatest strategy with injury prevention as well as decreased risk of re-injury. By stabilizing weak joints and targeting weaker structures with specific exercise, you can drastically improve your long-term results. Think about it... if you don't get hurt, you'll stand a much better chance of staying fit.
Fitness Program Survival Audios + Transcripts ($27 value)
Helping you learn how to:
Set appropriate goals
Reach every goal you set
Document your progress correctly
Avoid dieting forever
Understand why dieting is setting you up for a lower metabolism and less long-term results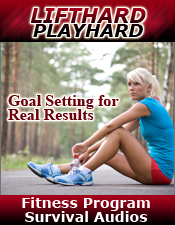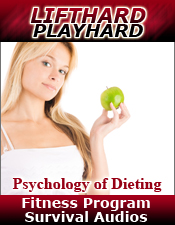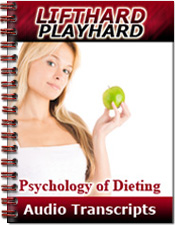 Weight Loss Cardio ($47 value)
Teaching you:
How to design the perfect cardio program based upon your goals
How long you should really be doing cardio
What the best cardio method for reaching your goals is
Exactly how I do my cardio, and why I can get everything done in half the time
Thorough video demonstration on all of the best cardio machines
How to 'periodize' your cardio program for best results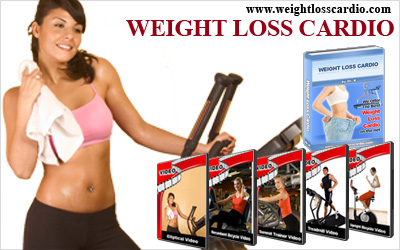 Bonuses for fast-action buyers (extremely limited-time offer):
3 Months Elite Membership Into Lift Hard Play Hard Monthly ($51 value):

3 months additional access to all workouts, videos, audios, and transcripts
3 months continued access to the Video FAQ Database
3 months access to all new additions to the site, including new exercise videos, video courses, and training materials

Fast & Functional Abs ($17 value):

Amazing ab workout routine taken from Ab Strength Guide

1/2 Hour Phone Consultation With Dr. K ($100 value):

To help you tweak your program to best suit your needs or answer any questions/concerns you might have
Total value of Lift Hard Play Hard = $3,511
More About The Fitness Video Courses :
Fat Loss Workout Video Course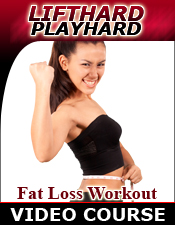 This is a weight loss program (without weight loss pills) that will teach you how to get lasting results in the fastest way possible. Literally, you will change your metabolism by following the step-by-step instructions given in this video.
Plyometric Training Video Course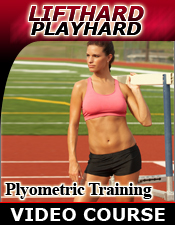 Plyometrics is usually known as training for athletes. This unique approach to Plyometrics teaches the athlete how to get faster, stronger, and more powerful, while the approach for the non-athlete is reduction in joint pain, stronger ligaments, and the ability to move free.
Strength Training Video Course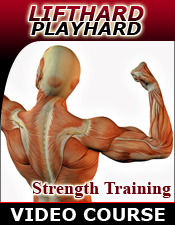 Strength training is an essential component of any workout program if you want to avoid plateaus, increase your metabolism, and burn fat more quickly. Belly fat and hip fat can be stubborn. The best way to get rid of your gut and tone your legs is to build muscle, thereby increasing your metabolism and targeting 'hard to hit' spots.
The Glorious Glutes Video Course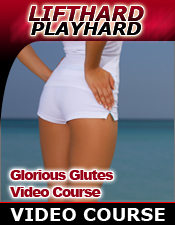 Fat butt? No problem. This video course teaches you everything you need to know in order to tone up your backside, pick 'ideal' glute exercises, and balance your body at the same time. An added bonus - Glute strengthening also helps reduce incidence of back pain!
The Secret Ab Formula Video Course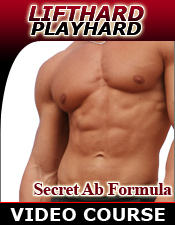 Abs are tricky to get in shape, unless of course you know what you're doing! The Secret Ab Formula holds you by the hand, as it reveals every secret I know about helping you get those six pack abs that you've always wanted (or as close to that as you want to go.) No holds barred, no secrets left unturned. Remember, this is the complete solution to fitness.
Open Chain vs Closed Chain Video Course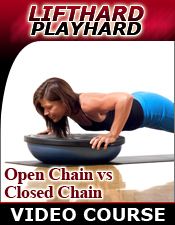 Most personal trainers are beginning to realize the power of 'functional training.' This video shares all of my insider's secrets to optimizing your functional training program, without adding crazy and fancy equipment, and without spending any extra time in the gym.
Proprioceptive Training for Unbelievable Results Video Course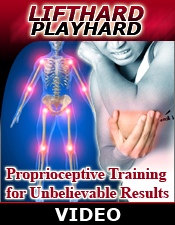 Join pain? No problem. Through proprioceptive training, you can re-educate your nervous system to teach your body how to move in a more coordinated, and, therefore, safer way. Proprioceptive training helps improve posture, balance muscles, and burn fat.
To Bulk or Not to Bulk? That is the question... (Video Course)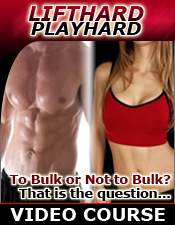 Are you worried that you're going to 'get huge' from this program? There's no need... this video course details exactly what TO DO if you want to build muscle, and exactly what NOT TO DO if you'd rather tone up and stay slim.
Obstacle Course Video Course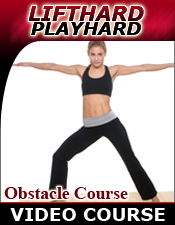 If you ever suffer from boredom with your workouts, this will surely do the trick. The Obstacle Course video course teaches you how to put together your own dynamic and fun training environment, both inside and outside. I'm sure you'll agree - this is a great way to both aerobically & anaerobically train to maximize your workouts every time.
Exercising Around an Injury Video Course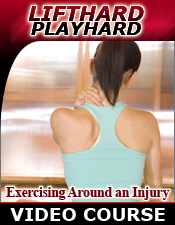 Injury results in pain. Pain is not a reason to avoid exercise... just the opposite! Pain is a reason to exercise more, improve circulation, increase endorphin release to numb pain receptors all over your body, and reap the benefits of stress relief at the same time. I'm going to teach you exactly what you need to know to avoid being "stuck on your back" ever again.
Postural Strengthening to Reduce Arthritis, Fix Joints, and Burn Fat Video Course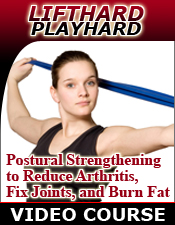 If you have arthritis, I've got great news for you: Properly performed postural exercise can and will reduce joint pain related to arthritis. Even more exciting, improved posture results in better oxygen delivery to muscles and tissues in your body that would otherwise be starving for air and tiring out too quickly. Plain and simple - by strengthening posture, you will feel better and you will last longer.
Muscle Balancing - The Key to Injury Avoidance Video Course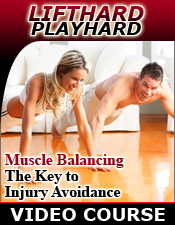 Strengthening your body in the proper order is an incredible way to reduce incidence of injury, while also improving strength. By properly aligning your joints and muscles, you are at an advantage with every exercise you do.
I am so confident that you will love Lift Hard Play Hard that I'm willing to take ALL of the risk:
ONLY PAY IF YOU THINK LIFT HARD PLAY HARD IS WORTH IT
Basically, you will be given an opportunity to evaluate the program each month as you go. At the END of each month you will be billed $67, for up to 12 months. If for any reason you do not believe that Lift Hard Play Hard is worth its value, you can cancel and you will not be billed for that month.
Either way, you'll have full access to the program for 30 days before you pay a cent.
Think of this as a test-drive. If it doesn't make complete sense to you, then please cancel any time during the 30 days. I only want you to be a customer if Lift Hard Play Hard is benefiting you in the best way possible.
Act NOW, and receive all of the bonuses listed below, including:
3 Months Elite Membership into Lift Hard Play Hard Monthly
The Fast & Functional Ab Video
The Injury Prevention Videos
Transcripts of all Audios
Weight Loss Cardio Transformation Package.
All these bonuses will be yours, FREE, if you sign up immediately:
Take Advantage Of Your Free Trial Now and Keep All of The Bonuses Either Way:
(click above if you want to lose fat quickly!)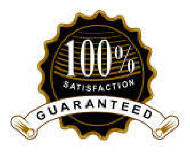 Your purchase is 100% protected. In fact, you won't even need a refund if you decide the program is not for you. Dr. K will not charge you a penny until you know you are completely satisfied. After each 30 days of participation in Lift Hard Play Hard your credit card will be charged a payment of $67. This way, you'll be able to evaluate each month BEFORE you pay for it.
To Your Health and Happiness,




Dr. Kareem Samhouri, CSCS, HFI